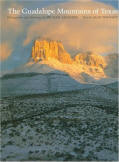 Since its publication in 1980, The Guadalupe Mountains of Texas has received many honors, including the Friends of the Dallas Public Library Award from the Texas Institute of Letters and recognition for its superb design from the Rounce and Coffin Club.
The Guadalupe Mountains of the Big Bend region of Texas contain some of the wildest and most magnificent scenery of any primordial wilderness area in the world. The 60 spectacular color photographs in this book vividly capture this extraordinary and pristine landscape while providing a splendid visual reference for Alan Tennant's marvelous account of the natural and social History of the area from prehistoric times to the present".--HOUSTON CHRONICLE.
| | |
| --- | --- |
| WINNER: | TEXAS INSTITUTE OF LETTERS BEST NON-FICTION |
| | SOUTHERN BOOK AWARD |
| | SOUTHWEST BOOK AWARD |
| | WESTERN BOOK AWARD |
Publisher: University of Texas Press ; (1997)
_______________
Snakes of Texas
Fourth Edition: available, February, 2006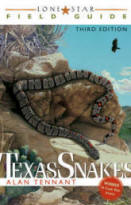 The fourth edition includes updated sections on snake evolution and snake venom poisoning.
| | |
| --- | --- |
| WINNER: | TEXAS A&M WILDLIFE SOCIETY AWARD |
| | W. FRANK BLAIR AWARD: OUTSTANDING CONTRIBUTION TO HERPETOLOGY. |
| | ANSON JONES AWARD FOR MEDICAL WRITING: PHYSIOLOGY OF VENOM POISONING. |
_______________
Snakes Of North America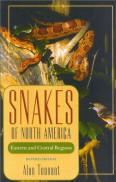 This all-new edition of the popular field guide provides photographs and descriptions of all species and subspecies of snakes of eastern and central North America from Texas to Manitoba, to the eastern seaboard of the continent.
Paperback: 614 pages ; Dimensions (in inches): 1.45 x 8.40 x 6.32

Publisher: Lone Star Books; Revised edition (August 2003)
_______________
Snakes of Florida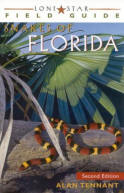 70 snake species and subspecies are found in Florida, and this book describes, shows in photographs, and details the life histories of every one.
Paperback: 272 pages ; Dimensions (in inches): 0.70 x 8.49 x 5.54
Publisher: Taylor Trade Publishing; 2nd edition (December 1, 2003)
| | |
| --- | --- |
| WINNER: | NATIONAL OUTDOOR BOOK AWARD |